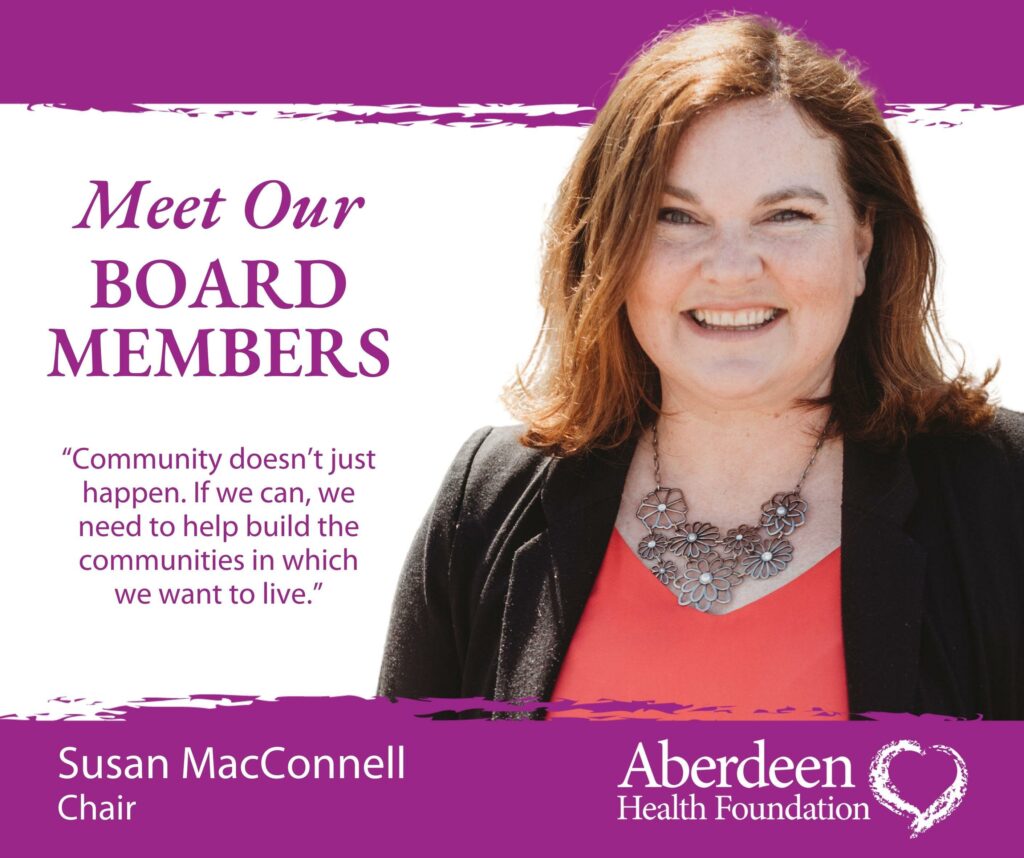 Over the next few months, we would like to take some time to celebrate the incredible Board Members who work quietly behind the scenes to drive the vision and success of the Aberdeen Health Foundation.
Introducing Susan MacConnell, Director of Communications for Crombie REIT. Susan has been a board member for over four years and Chair of the Aberdeen Health Foundation Board of Directors for the past year. No stranger to community volunteering, Susan was recipient of the 2008 Jack Pink Volunteer of the Year award and has served on various boards and committees throughout Pictou County. You could say volunteering is in her blood, as her father won the same award just this spring, and her mother has served on the board of the Children's Aid Society.
Born and raised in Scotsburn, Susan studied at Dalhousie and St. Mary's Universities to complete her Bachelor of Arts and MBA, respectively.  Despite her time away, Susan always knew she wanted to return to Pictou County to work and raise a family. That desire brought her and her husband Troy back to Scotsburn, where they purchased Susan's childhood home and raised their own three daughters, who, like Susan, were each born at the Aberdeen Hospital.
"When I think of all the places that will touch everyone in our community, the Aberdeen is the first place that comes to mind," says Susan. "In the best of times, such as birth, and in the worst of times, such as illness, we depend on the care and compassion we receive at the Aberdeen."
A champion for our community and a constant voice of kindness, Susan helps drive the board's focus on patient-centred decision-making every step of the way. "Being a member of this board, I am able to play a small role in the enhancement of health in the community I love." Susan says, when asked what motivates her to be involved with the Foundation, and Susan has no shortage of love for Pictou County. "I love that people rally around others in times of need. I love that the people who watched me grow up are now helping to raise my children. I love that my childhood family doctor was among my daughter's first hospital visitors. I love that that same doctor was with my Grampie in his final minutes and loved him almost as much as we did. I love that my high school basketball teammate and my Rotary musical castmates will look out for my daughter as she starts on her RN journey in a few years."
The interconnectedness of our community must also leave space for inclusivity and hospitality as we grow, says Susan. "I hope that we will continue to embrace newcomers as they arrive in our communities, and that we will build a strong culture of inclusion and belonging. I hope that we will be proud of where we live, and the people we are, and that we will continue to evolve and grow together."