It was an emotional day when the nieces of Jean MacKay Baudoux visited the Aberdeen Hospital to see their beloved aunt's generosity at work. A bequest in Jean's Will to the Aberdeen Health Foundation has established a Clinical Simulation Lab at the hospital, a dedicated training space for the clinical education of health professionals complete with live simulation technology.
"As a proud nurse and nurse instructor, Jean was committed to donating to the Aberdeen Health Foundation throughout her life. It was incredibly touching to witness our aunt's final act of generosity at work, which is impacting health professionals and patients right where Jean began her career in nursing more than 50 years ago," says Jean's niece Carolyn Townsend.
In addition to creating a dedicated training space, Jean's donation has provided for a female mannequin that is so lifelike it can deliver a baby. "The 'Sim Mom' or 'Jean' as I call her, allows me to set up scenarios for various pregnancy and delivery situations," says Chanda MacDonald, Clinical Educator with the Nova Scotia Health Authority. "Learners can practice neonate assessments and emergency situations and I am able to assess their response in relation to a variety of learning objectives, from skill development to communications and teamwork."
The Sim Lab has been outfitted with a one-way mirror, which allows the trainer to set up scenarios and observe without being in the same room and without being seen by the learners. This makes the training much more realistic according to MacDonald.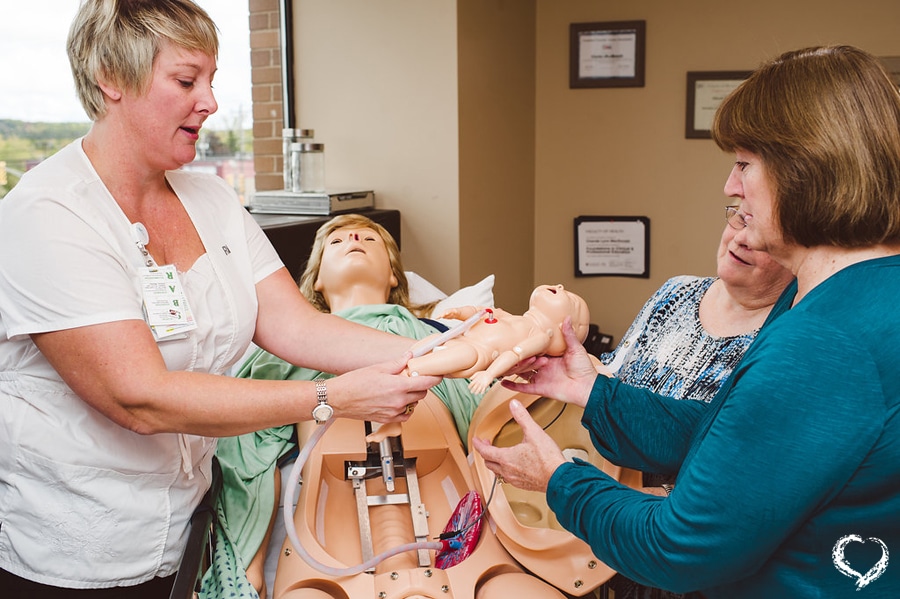 "Jean" joins a variety of training equipment already available at the hospital's clinical education department, including "Prostate Pete", another simulator that was acquired through a donation from the Prostate Support Group of Pictou County in 2015.
Peer review studies have consistently demonstrated the efficacy of simulation training. Before it existed, training meant asking for volunteers to be the patient and then essentially playing make-believe, talking through actions rather than actually performing them.
In addition to providing the most advanced, realistic, and safe form of training available, Simulation learning is considered best practice in inter-professional development. Learning to work to the strengths of each other's specialization is a dimension of clinical education that delivers a net benefit of improved patient care and safety.
Speaking on behalf of the Aberdeen Health Foundation, Executive Director Susan Malcolm expressed her thanks to Jean's family who understood the significance of these technologies to patient care and to honouring their aunt. "This is a great example of how we work to match donor interests and priorities with the right equipment and programs. It's so gratifying to be there that moment when a donor or donor's family gets to see the impact of their gift. We are so very thankful to Jean for her ongoing support and the bequest to ensure her wishes would be carried into the future."
All of Jean's nieces were incredibly close to their aunt, but Joanne MacDonald got to see her aunt in another way, as a student who trained under Jean at the Aberdeen School of Nursing. "Jean was the consummate professional, soft-spoken but very professional. She always made herself available to students. I know she would be thoroughly pleased if she could see for herself what her donation has made possible. This is what she always believed in – she would do anything to further a nurse's career."
Photo Caption: Clinical Educator Chanda MacDonald (pictured centre) was able to demonstrate the Clinical Simulation Lab made possible by a bequest from Jean MacKay Baudoux. Pictured left to right are Jean's nieces Joanne MacDonald, Eleanor Smith, Patsy Rizzotti, and Carolyn Townsend.
Posted: November 10, 2017