"Thanks to Aberdeen Health Foundation we have 2 new ultrasound machines. It means that even with increasing demand for ultrasounds, we have been able to keep wait times down compared to other jurisdictions.
We are proud of the care and effort our technologists make to keep wait times down, and being able to work with the most up-to-date ultrasound imaging equipment supports their efforts.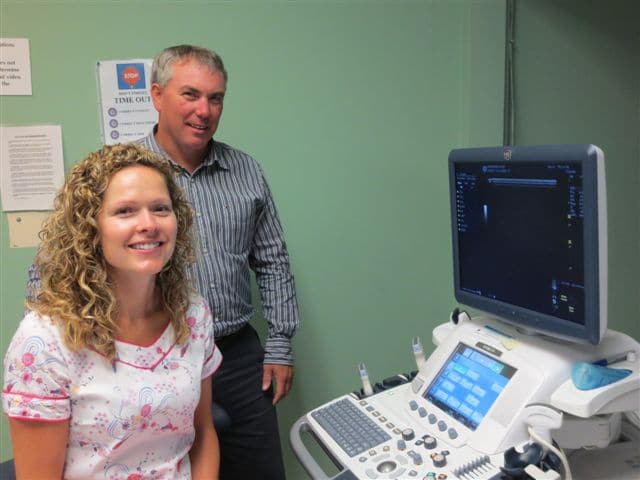 Provincially, Diagnostic Imaging managers have developed a plan to identify equipment replacement needs for the province in order to keep all equipment up to standard. Unfortunately the high cost of equipment has made this a difficult strategy to adopt.
Fortunately, the generous support of the Foundation has allowed equipment renewal to occur in a more systematic manner in PCHA than in other District Health Authority's across the province. "
David Quann, Diagnostic Imaging Manager
Since 2003 The Aberdeen Health Foundation has invested $759,000 in ultrasound technology for the Aberdeen Hospital, including:
Ultrasound with cleaning probe (2013)
Portable ultrasound (2012)
Ultrasound and portable ultrasound (2007)
Ultrasound (2003)
Pictured: Johanna Verhagen, Ultrasound Technologist and David Quann, Diagnostic Imaging Manager

Posted August 8, 2014