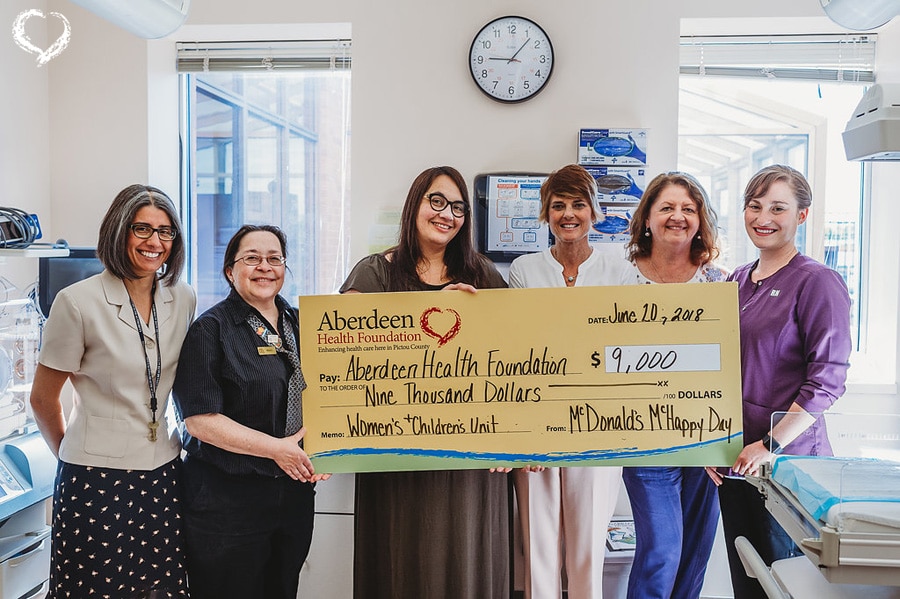 The proceeds from this year's McHappy Day will purchase a vein viewer for the Aberdeen Hospital Women and Children's Unit.
Staff from the New Glasgow McDonald's delivered their $9,000 donation to the Aberdeen Health Foundation and got to see the area where the vein viewer will be put to work when it arrives, right next to the baby warmer.
In describing the purpose and importance of this equipment, Nurse Manager Debbie MacDonald explained that the device enables the precise location of veins by 'lighting them up', which allows for rapid deployment of fluids and medicines with minimal impact on the infant.
Every year, McDonald's Canada franchisees and crew across the country celebrate McHappy Day, with proceeds going to Ronald McDonald Houses and other local children's charities.
"We are so thankful to the staff of New Glasgow McDonalds to be chosen as the recipient charity," says Michelle Ferris of the Aberdeen Health Foundation. "Through their dedication to making McHappy Day such a celebration of the causes they support, our local McDonald's has now raised more than $55,000 for our Women and Children's Unit – a tremendous impact for their heartfelt effort."
Pictured above: Michelle Ferris, Aberdeen Health Foundation; Michelle Corcoran, McDonald's Store Manager, Chantelle McGean McDonald's First Assistant Manager; Debbie MacDonald, Health Services Manager Women & Children's Unit, Dr. Laskowski, Pediatrician; and Erika McKeough, RN WCH.
 Posted: July 15, 2018