Donald Horne is someone who has an infectious enthusiasm for life. At 91, he has boundless energy, a warm sense of humour, and jesting laugh. He is someone who talks about the things he loves – like getting out on his motorcycle and working in his woodlot, which he still does almost daily.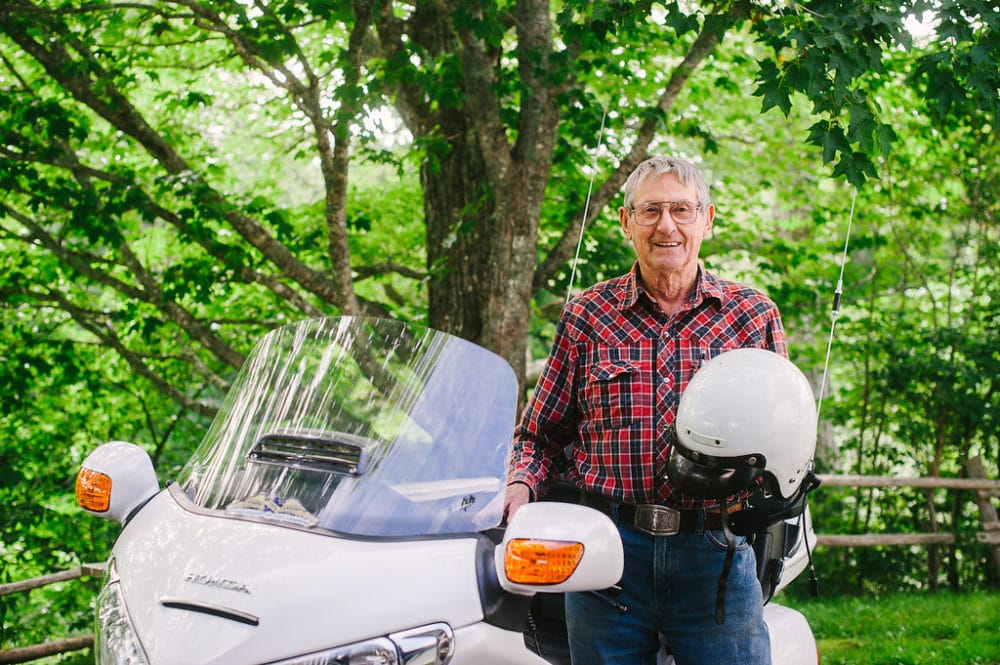 Don explains that his success in life is due to a lot of luck, but in meeting him, one can't help but imagine there's more to it than that.
How else to explain Don's continual promotion into new and untested roles at MT&T – the company he went to work for right out of drafting school in the '40s, and the company he would retire from in 1978 upon completing his assignment as project manager for the construction of the MT&T building at the bottom of Spring Garden Road in Halifax.
It's true that luck may have had something to do with his success in the stock market. As a telephone company man, Don was committed to buying stocks in almost every telephone company he could, even some overseas. And, no doubt, in this his life is somewhat charmed.
Perhaps the only disappointment he had was that he and his wife Kay never had children. So when it came time to consider how he might share the blessings of his life's work, Don looked out into the world. He saw many areas of need and started making a list of charities he wanted to support.
It was his estate planner and friend who suggested he shouldn't wait to leave the gifts in his Will, rather he should start to donate now while he could witness the impact they would have.
This may have been some of the best advice Don ever took. Even though he was raised, as he describes, true to his Scottish roots – to work hard, save every penny, and never buy on credit – today Don is giving his life's legacy away with gusto, and in his own words he's "having a ball". At the thought of this he lets out one of those big laughs, as if to say, hey mom and dad, what do you think of that!?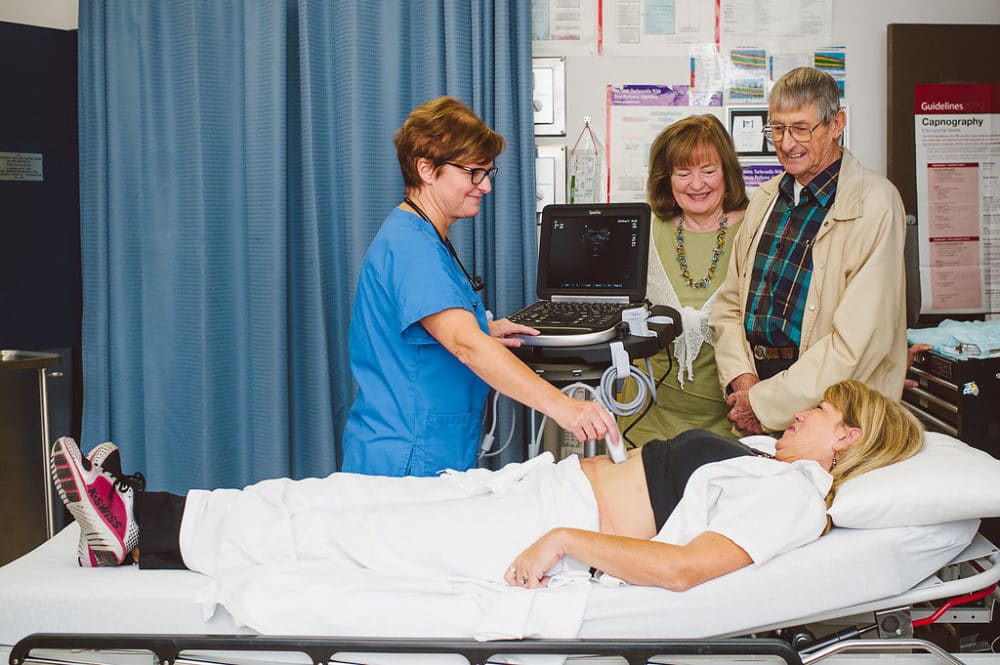 Pictured: Don Horne gets to see the portable ultrasound machine in action. Emergency Room Physician Dr. Debra Straub demonstrates the technology. Also pictured is Susan Greene, Chair, Aberdeen Health Foundation.
Don has made a number of gifts around the region, including to the Aberdeen Health Foundation where his donation has been used to purchase a portable ultrasound machine for the hospital's Emergency Room. Not only does this new equipment mean a leap forward in terms of the diagnostic capability available to physicians, but it also increases the potential for quick bedside diagnosis for patients.
"Quite simply, this technology is a major asset and it will greatly optimize patient care," says Jennifer Sutherland, Health Services Manager of the Emergency Department. "It makes me so proud and thankful to know that we have such generous people here who are doing all they can for this community."
The new technology means that the Aberdeen Hospital's emergency room has more capacity and capability than before. In addition to this, the hospital's Palliative Care Unit and Women & Children's Unit will also receive funding from Don's gift for items at the top of their wish lists.
When talking to Don about his gift he really didn't want the story to be about him, he wanted it to be about the good work the Aberdeen Health Foundation is doing for the community. But it's because of people like Don who live and give wholeheartedly that the Foundation can accomplish what it does to enhance health care here in Pictou County.
It's clear Don is a man totally committed to what he's doing, and in addition to having a ball, he's having a tremendous impact on the lives of many others.
The will to enhance Health Care in Pictou County
Planned Giving is one way to extend your life's work and intentions beyond the present. A gift in your will to the Aberdeen Health Foundation is a significant way to touch the lives of everyone in Pictou County. Gifts of any size are welcome. All gifts make a difference.
Besides benefitting the charity, planned giving can reduce your tax burden. The Aberdeen Health Foundation accepts bequests of Cash, Life Insurance, Retirement Plans, Charitable Remainder Trusts, Stocks and Public Securities, Residual Interests, Property, Annuities and Income Funds. The Foundation can help you plan a gift that best fits with your priorities for health care in Pictou County.
If you have already established a gift in your will to the Aberdeen Health Foundation, please let us know, so that we may include you as a member of our Gifts for Life Society and offer our thanks for your generosity.
Your life. Your legacy. Every gift makes a difference. Contact us.