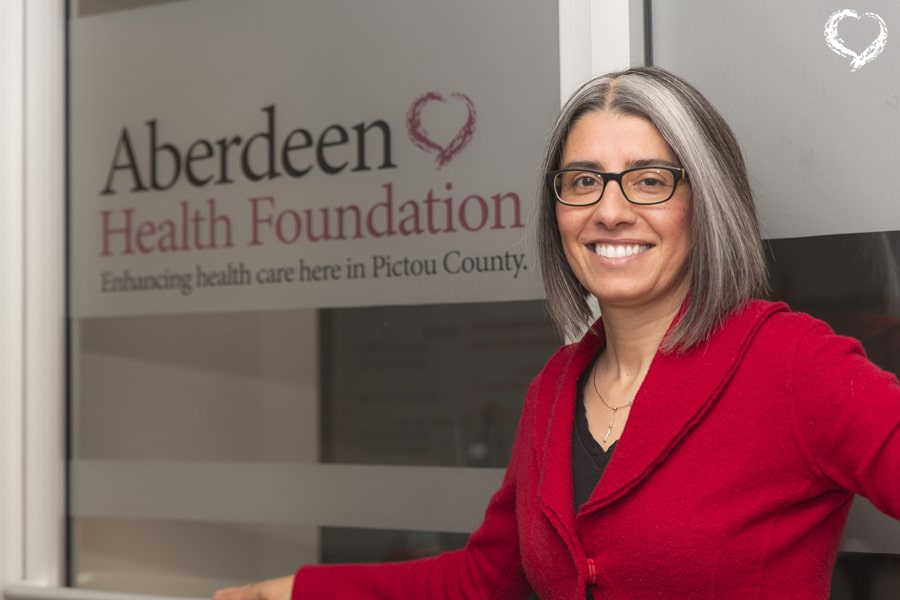 The Board of the Aberdeen Health Foundation is pleased to announce the appointment of Michelle Ferris to the position of Executive Director of the Aberdeen Health Foundation.
Michelle brings a wealth of knowledge and experience from a variety of sectors in Pictou County. Throughout her career, she has demonstrated a commitment to building healthy communities through her work and volunteerism with organizations that are shaping the social and economic development of our region.
Ferris is a Co-Founder of Bullrush Communications, specializing in marketing communications for non-profit and public sector agencies. Through Bullrush, she has actively supported numerous charities and non-profits on the Northumberland Shore, providing communications services for a wide array of arts, social, and environmental organizations. The Aberdeen Health Foundation is one such organization.
Michelle has led the community relations work of the Aberdeen Health Foundation for the past decade, including managing the brand identity, communications plan, and media relations. She knows the Foundation well and looks forward to building on that knowledge and existing relationships as she begins her new role as Executive Director.
She has extensive experience in the non-profit sector, serving in various roles for a wide array of organizations, including Founding Director, Officer, and executive staff.
As a Founding Director of Friends of Redtail Society, Ferris worked with a broad community of stakeholders to coordinate a successful grassroots fundraising campaign and initiate a community forest project.
As Organization and Outreach Director at Tatamagouche Centre, a learning and retreat centre, she demonstrated an ability to work with diverse stakeholders and was responsible for community engagement, fund development, and board governance.
Some may remember Michelle at the beginning of her career as Marketing & Special Event Coordinator for the Town of Pictou where she worked ardently to build community capacity and played an instrumental role in the Ship Hector Launch Event.
"I am humbled and honoured that I have been entrusted with this role, which touches the lives of so many in Pictou County," says Ferris.
"I look forward to working with the board to build on the solid foundation of stewardship that has made its first 30 years so successful. I see my role as helping to bridge that strong and stable past to the transformational future the Aberdeen Health Foundation wishes to have in improving the health of our community. I welcome the opportunity to meet the many donors and partners who have come to value and trust in the work of the Foundation."
"Throughout her career, Michelle has demonstrated her ability to cultivate meaningful relationships. She understands and cares a great deal about Pictou County and those who live here," says Chair Jim Shaw, speaking on behalf of the Board of Directors. "Her knowledge of the Foundation as well as her excellent communication skills will be indispensable as the Foundation continues to build relationships with the Nova Scotia Health Authority, community partners, and the generous donors of Pictou County."
The Directors of the Aberdeen Health Foundation look forward to Ferris' leadership in furthering the Foundation's mission to support the health and wellness of the people of Pictou County. Her door will be open starting June 1, we invite you to drop in and join us in welcoming Michelle to this important role.