Health care is even more than state-of-the-art equipment and technology; it's about people too. For that reason, the Aberdeen Health Foundation provides direct support for the training and development of health care staff.
Annually, the Aberdeen Health Foundation invests approximately $1 million to enhance health care in Pictou County, and about $50,000 of this goes directly to support health care workers in accessing advanced training.
"When it comes to caregiving, the ability to further one's knowledge is not just good for patients, it builds confidence and contributes to satisfaction among staff," says Susan Malcolm, Executive Director of the Aberdeen Health Foundation. "And as an employer, it gives our local hospital a tool for attracting and retaining staff."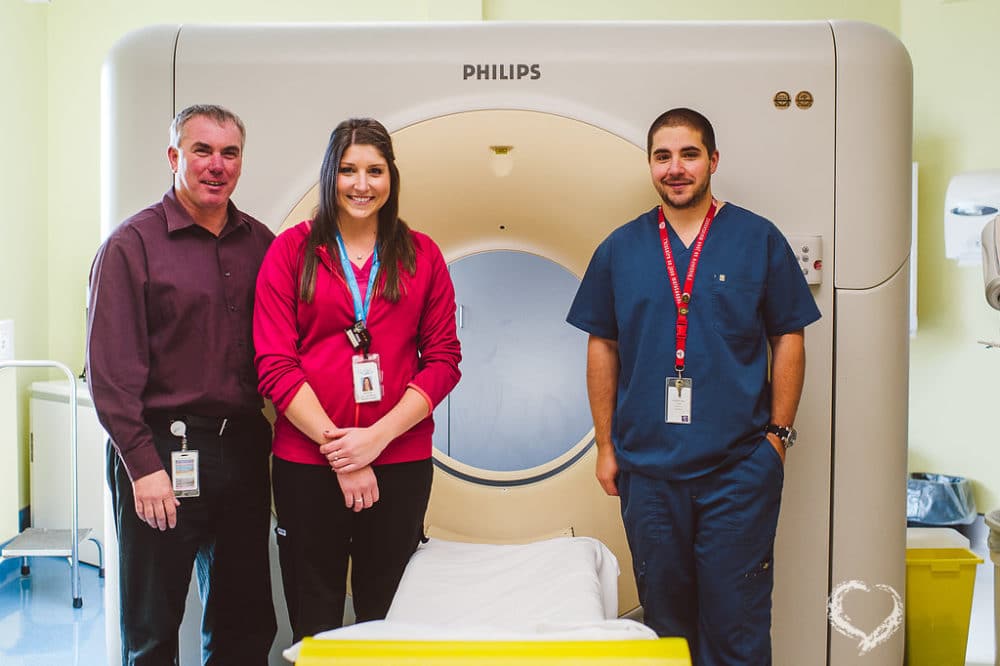 Pictured above: Diagnostic Imaging Manager David Quann pictured with CT Scan staff Marie-Pier Doiron and Jonathan Hovi.
This latter point is echoed by David Quann, Manager of Diagnostic Imaging at the Aberdeen Hospital. Quann is responsible for the operations of the Diagnostic Imaging Department, as well as staffing. In this role, Quann has excelled at ensuring that patient access to imaging services in the department is maintained and not negatively affected by staff shortages.
He has done this, thanks in part to support from the Aberdeen Health Foundation. "The Foundation has provided support for cross training of technologists, so that, for example, one of our regular CAT Scan staff members has been able to complete MRI training. This has been a good strategy that has ensured we don't have downtime on the equipment."
On average about three staff in Quann's department benefit from advanced training each year.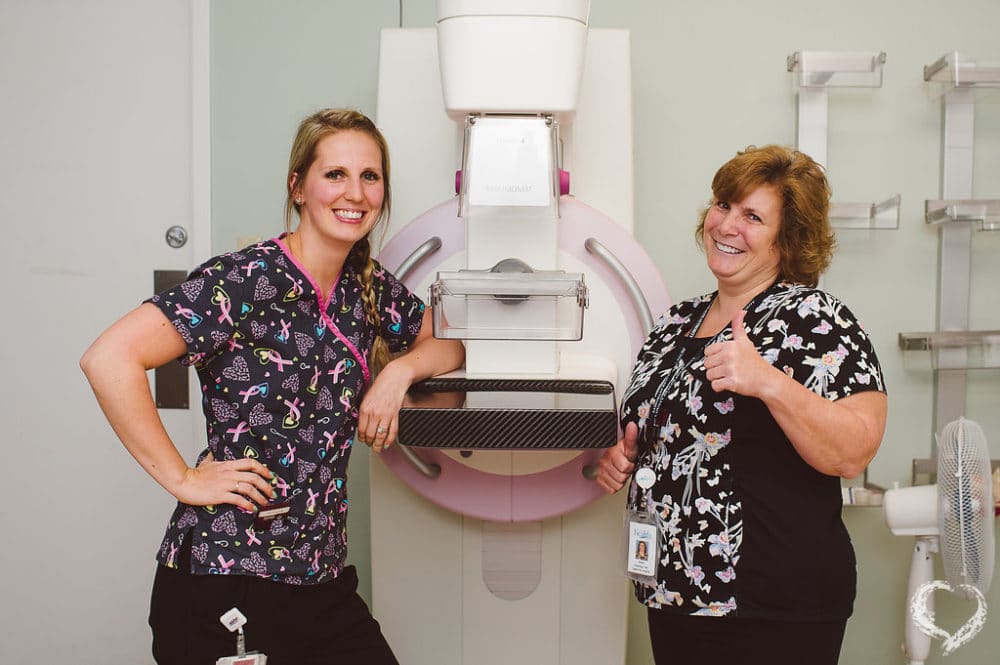 Pictured above: Mammography staff members Janelle Ouellette and Karen Leil-MacDonald.
"The commitment to training is shared equally among staff, who complete the coursework on their personal time; the hospital, which provides the facilities for examinations and time of senior staff to supervise; and the Foundation, which funds the courses," says Quann. "Our department has been a very big beneficiary of the generosity of the Foundation."
Chanda MacDonald knows all about the impact of training on staff. As Clinical Educator, Chanda is responsible for the orientation of staff and provides education in advanced competencies that helps staff develop the specialized skills that are required by the area of the hospital they are hired to work in.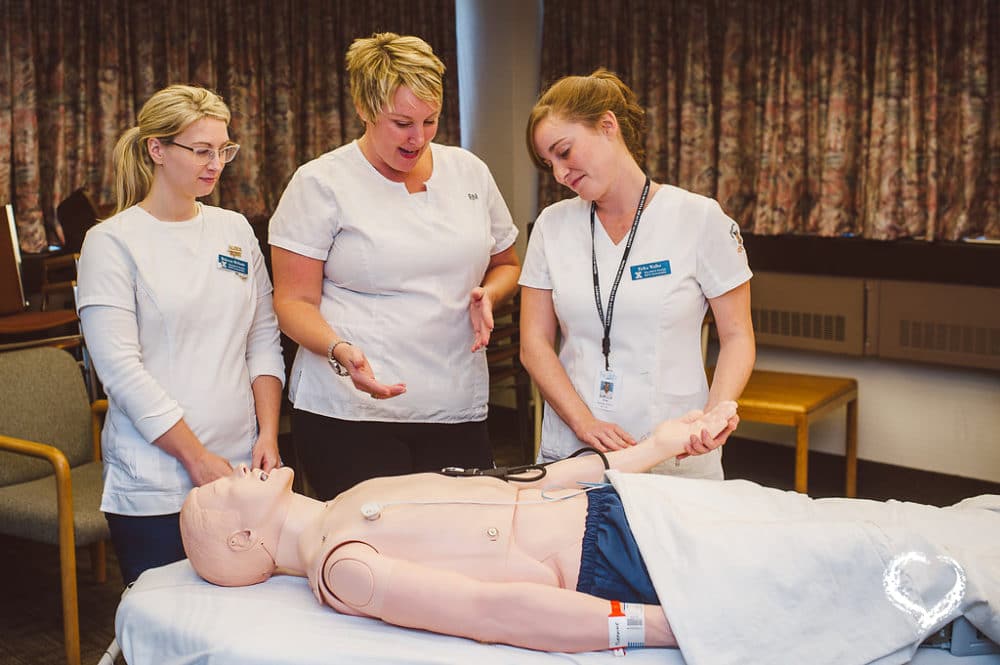 Pictured above: Clinical Educator Chanda MacDonald (centre) with student nurses Rebecca McInnes and Erica Waller
Thanks to the Foundation, Chanda has a powerful new tool that brings training to a whole other level. Prostate Pete is a life-size simulation mannequin that is programmed with a wireless SimPad to run dozens of potential scenarios. These simulations help staff prepare for real life experiences in a very safe, low-risk way.
Prostate Pete is also used to build inter-professional collaboration, by bringing allied team members together in training they learn to work to the strengths of each other's specialization for improved patient safety and care.
MacDonald's job is a bit easier now that she has Prostate Pete by her side. "When we received this state-of-the-art best practice equipment it put training into life-form. It made learning exciting, innovative and fun. In my role as an educator, I am always looking at ways to engage staff. Simulation is amazing, it not only engages staff but deepens their learning and makes it more lasting."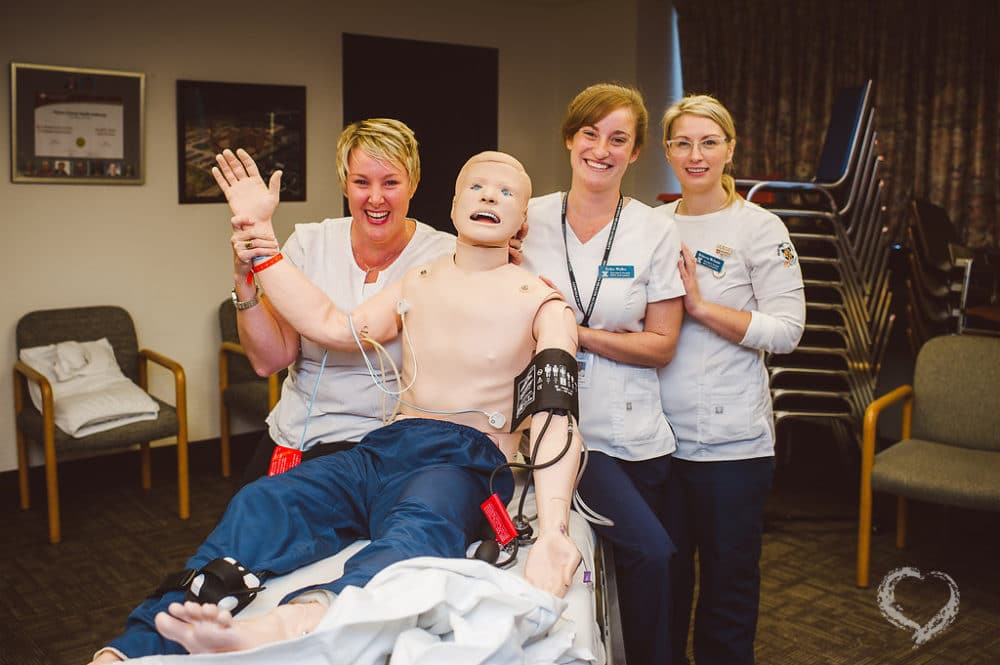 It's not an understatement to say they are a popular duo. "Whenever we travel down the hall, people are always saying hi to Pete, it's like he's a real person and part of the team around here."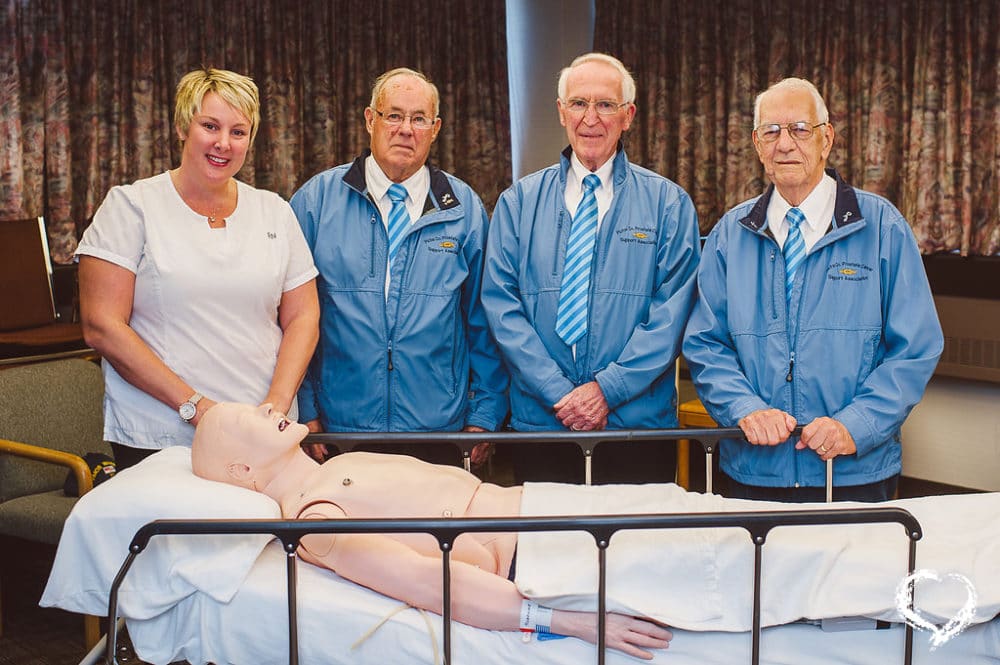 Picture above: Chanda MacDonald with members of the Pictou County Prostate Cancer Support Group
Prostate Pete was named in honour of the Prostate Support Group of Pictou County, which provided the funding to the Aberdeen Health Foundation to support this education initiative at the hospital.
It's a pretty significant investment. "We're the only rural hospital in Nova Scotia that has a simulation mannequin and can offer this type of training. It's a definite recruitment tool. We can attract the best talent, and that translates into the best possible care for our patients. I have had new grads tell me that they want to work here because of the awesome orientation the Aberdeen has to offer."
Attracting great staff is part of the job that Nancy MacConnell Maxner is most excited about. Five years ago, MacConnell Maxner developed a co-op program at the hospital that targeted high school students in Pictou County.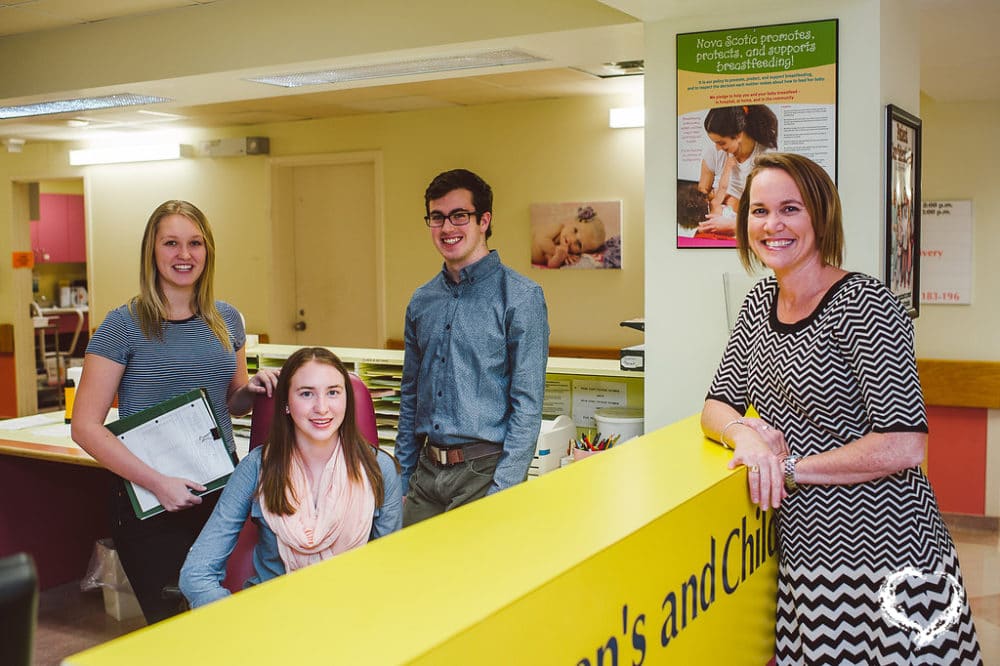 Pictured above: Co-op students Lillian MacDonald, Amelia English, Sean McNeill and Nancy MacConnell Maxner
The program gives youth going into their senior year the chance to experience what a career in health care might be like. The students commit to 200 hours of practicum experience over the summer and get to experience time in all departments of the hospital. At the end of the summer, they make a presentation to hospital staff on their experience and receive two academic credits. Three students are selected each year and all students who apply get the opportunity to be interviewed for the placements.
Lillian MacDonald, one of this summer's Co-op students says she now knows for sure she wants to pursue a career in health care.
"My favourite memory of the hospital was definitely spending the day with Dr. Hayward. On that particular day, I was allowed to go into the OR and see three different orthopedic surgeries. The surgeons and nurses took the time to explain to me what was happening and took every chance they got to teach and make me feel welcomed. I attended a hip replacement surgery and Dr. Hayward gave me the removed femoral head to hold and analyze. This was an amazing experience that people my age don't get to experience and I definitely wouldn't have without this Co-op experience."
This year marked an important milestone in the history of the Co-op program. "The first two Co-op students, from five years ago, just graduated from nursing school and one, Kaitlan MacLeod is now working in the Emergency Department at the Aberdeen," says MacConnell Maxner, who beams with pride when speaking of this accomplishment.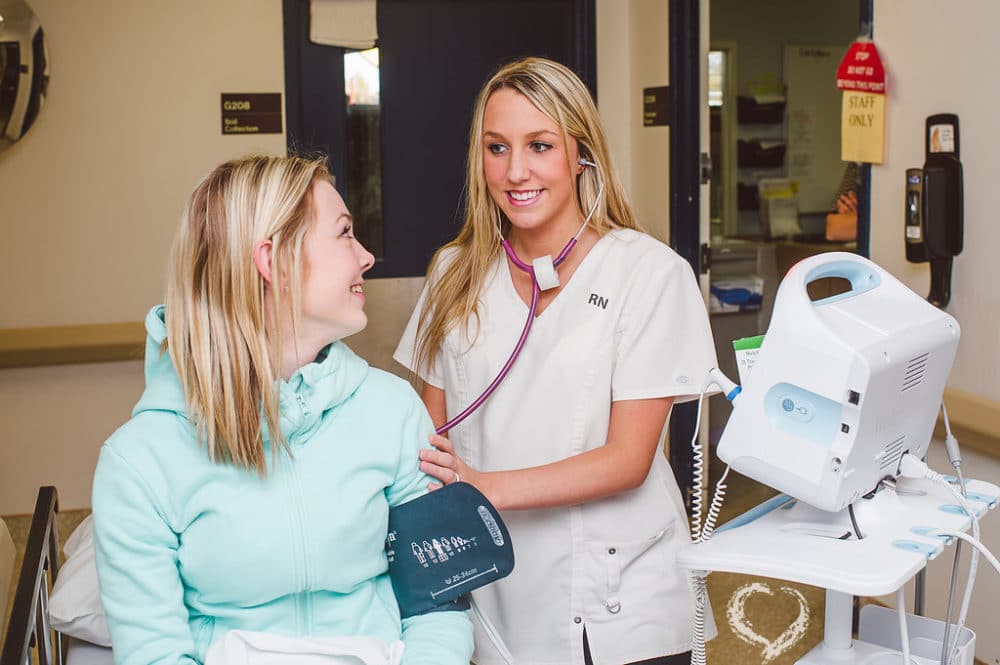 Picture above: Kaitlan MacLeod, RN, one of the first co-op students and new hire at the Aberdeen Hospital
Reflecting back, Kaitlan MacLeod recalls that she was thinking about a career in nursing but wasn't sure. It was the Co-op program that removed any doubt from her mind.
"It was a wonderful experience and opened my eyes to so many careers in health care that I wasn't familiar with at the time – like dieticians, respiratory therapy, and occupational therapy. Every week I was somewhere different. I was in the Women and Children's Unit when I realized that nursing was what I definitely wanted to go into."
It was another experience at the Aberdeen that made her realize something else important. "I was doing my final clinical placement in the Emergency Room at the Aberdeen, at the time I had a job opportunity in Halifax and thought that I wanted to be in the city. But during that practicum, the staff here were so great and welcoming, and I realized how good it was to be home and how much I missed it here."
When a position in the ER opened up, Kaitlan applied and was hired. She's been home and on the job since June.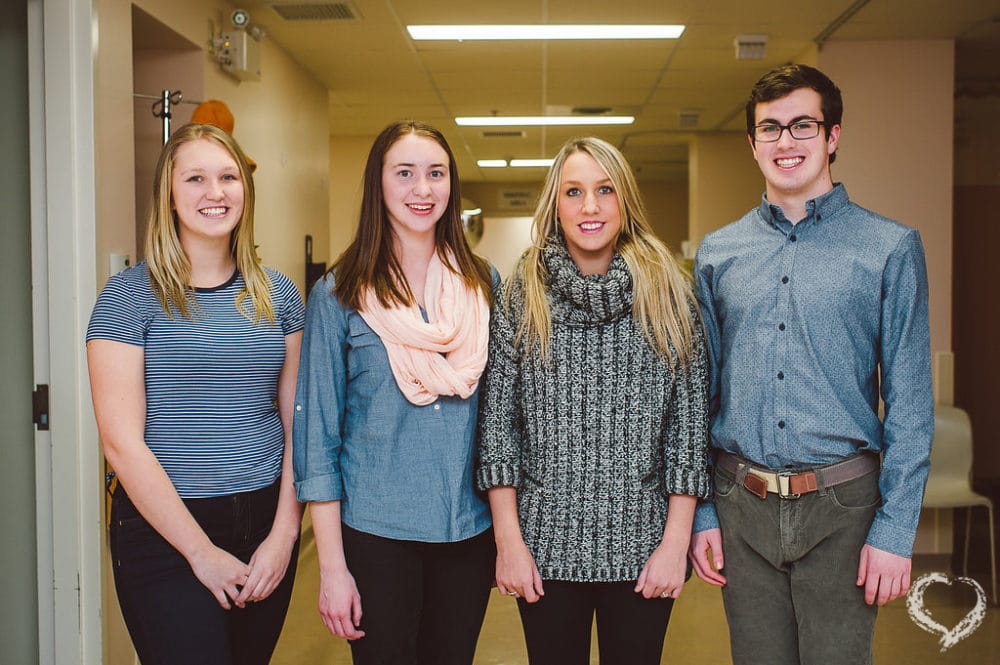 As Manager of Inter-professional Practice and Education, Nancy MacConnell Maxner oversees the approval of staff requests for training, as well as the recommendation of applications for submission to the Aberdeen Health Foundation.
There are strict criteria in place, and applicants must demonstrate that the training will enhance and improve efficiency in patient care, and at the same time support the hospital in fulfilling its commitment to best practice and to meeting national accreditation standards.
MacConnell Maxner knows that much of what she's responsible for in her job would not be possible without the support of the Aberdeen Health Foundation. "There are more than 50 requests for training each year that are approved for support by the Foundation, including the Co-op program. The Foundation has been an incredible partner. Without them, this type of investment in our people would not be happening."
The Aberdeen Health Foundation has several directed funds that support education initiatives at the hospital, including the Dr. Johnnie Miles Williston Education Fund and the Bain Langley Palliative Care Education Endowment. Help us support health care staff. Donate now.