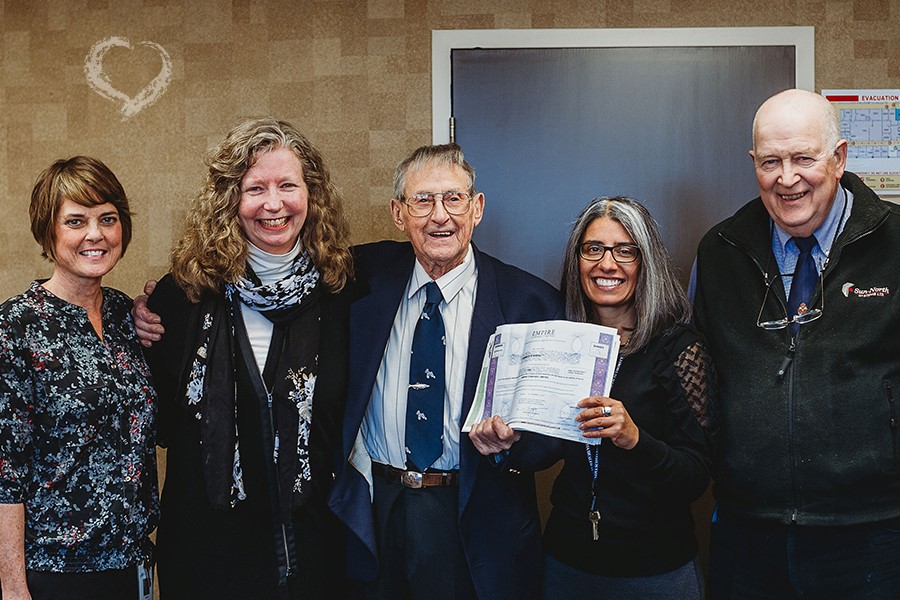 The Aberdeen Health Foundation has been fortunate to be one of Donald Horne's charities of choice. Whether he has a golden touch or simply good fortune, Donald has a history of making sound investments. He is not the only one who has benefitted from this. Over the years his donations have been used for equipment purchases and enhancements for the Emergency Room, Palliative Care Unit, and the Women and Children's Unit at the Aberdeen Hospital.
In 2018 he took his commitment a step further and established the Donald Horne Endowment for Children's Health. The fund directly supports patient care for children in Pictou County. Like the Aberdeen Health Foundation's other endowments, this donation is invested to grow principle, generate income, and provide annual support. Earlier this year Donald gave the endowment a major boost with an exceptionally generous gift of 5,900 shares of Empire stock.
"I bought Empire stock on the very first day the company went public in 1982, and I continued to buy it over the years. It was a good choice," says Donald with a chuckle. "That's why it means so much to me to hand over these stock certificates today, I know it's going to the cause that's so dear to my heart."
Debbie MacDonald, Health Services Manager for the Women & Children's Unit is one of the people Don has worked with and who sees the impact of his gifts. "Don has an enthusiasm that shines through everything he does and it's felt the moment you meet him. Through his generosity he is positively affecting the lives of so many. He is making an incredible difference to the patients of our Women and Children's Unit."
Donald's generosity has brought both joy and inspiration. Another donor has already chosen to contribute and build the fund further. Donald was incredibly touched to learn this, as the main reason he agreed to share his story was in hope that others would join him in donating to children's health locally.
Although electronic transfers are an easy way to gift shares to the Foundation, Donald delivered his in person. "This was very meaningful for Don," notes Executive Director, Michelle Ferris. "Taking this long held asset and directing it towards the endowment that bears his name and will continue his legacy was a wonderful moment. Generous and enthusiastic in his approach to life and philanthropy Don never fails to keep raising the bar; for this we are incredibly grateful to him."
A Gift of Shares is an easy and tax-effective way to donate to the Aberdeen Health Foundation. Donating securities can have significant tax advantages. To learn more, visit our Ways to Give page.

Pictured L-R: Deborah MacDonald, Health Services Manager, Women and Children's Unit; Robyn Eaton, Chair, Aberdeen Health Foundation; Donald Horne; Michelle Ferris, Executive Director, Aberdeen Health Foundation; Dr. James MacLachlan, Medical Site Lead, NSHA Aberdeen Regional Hospital.

Posted: March 15, 2019